AutismBC Connects: Krystian Shaw
Tell us about your diversability journey.
Hi, My name is Krystian Shaw.
I live with developmental disabilities and an anxiety disorder.    
I dreamed about working in the disability field but could not because I needed a degree, which I could not get because I needed some support myself. So, I did some brainstorming about how I could work in the disability field to give back to society since I was supported a lot during my younger years and adulthood. I look up to Chris Pincott, who was my social worker when I was growing up. I also give credit to lots of support agencies, such as Infant Development Centre, who worked with me until I was three, and Insight Support Services supported me until I was 19. After becoming an adult, I got support from the Kamloops Society for Community Inclusion (formerly Kamloops Society for Community Living), People in Motion, and Community Living BC in Kamloops. Karen Newman helped me advocate a support group for them to send a referral to Community Futures so I could get help with self-employment, including learning how to make up a price list and how to get ads for my business, the Kamloops Self Advocate Newsletter.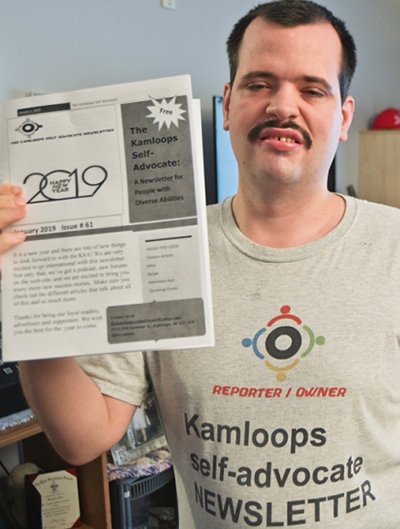 Tell us about your newsletter, The Kamloops Self Advocate; how did you start this project?
I have always had a sense of right and wrong, and wanted to fight injustices around all disabilities, including mental health issues. A friend suggested creating a newsletter, so I did, and the rest is history. My goal in running the Kamloops Self Advocate Newsletter is to stomp out stigma and discrimination around all disabilities and mental health issues, focusing on what people can do, not what we cannot do. I am grateful for the community companion program and Justine Richmond, who helps me edit my newsletter and who believed in me from the beginning. She volunteers on her own time, being my editor. Learn more about Krystian in the Shaw Spotlight
Tell us about some of the accessible resources in Kamloops or in the province that you access.
I spend my leisure time going to People in Motion's Tuesday Night fitness class. I love being a part of the Community Companion program, which is funded through Community Living BC. We do different activities like arts and crafts, scrapbooking, or meditation with the Community Companion program and go out into the community. I get around by walking, by Handi Dart, or by public transportation. I also have taxi savers when a taxi is necessary. I get 50% off taxi fares because I am registered with Handi Dart. With Covid, I do most activities on Zoom and practice physical distancing when in a group. I also wear a mask to stay safe. In March, I survived COVID-19 and do not want to press my luck. 😆

Health Care Accessibility: My experience with Covid-19
On March 24, I started to have symptoms of a bad sore throat and cough. At midnight on March 27, my mom checked on me, and I had a fever of 102. She called an ambulance to bring me to the hospital. The paramedics arrived at our home; all dressed up in masks and bodysuits. They put a mask on me and my mom. They didn't want my mom to come with me, but she insisted on helping with my communication. Luckily, my mom was allowed in the ambulance if she wore gloves and a mask. When we arrived at the hospital, we had to wait in the ambulance until the doctor came out to get us. Then we were allowed to enter, but we had to go through a special door to a special place in the hospital. I remember my back was sore, and my heart was beating very fast. The doctors decided I would be admitted to the hospital because my oxygen level was below normal.
I was upset because my mom couldn't stay with me and wasn't allowed to visit. 24 hours after I was admitted, I started to feel better, but I couldn't go home because my mom and I were immune-compromised. I had to stay in the hospital for one week. The hardest part was that I couldn't see my mom. She had to stay quarantined at our home by herself.
I am grateful to the Kamloops Society for Community Inclusion. They supported my mom when I was in the hospital. They brought her food and supplies and took our garbage out. This helped so much. I was still contagious when I got home. I had to stay in my room. I could come out to watch TV with my mom as long as we had masks on and sat two meters away from each other. My support worker dropped off things for me to do and helped us with our shopping. I want to say a very special thank you to Melody for being there for us. 
Check out this toolkit for people with disabilities in BC for Health Care Settings During Covid-19.
If you had a magic wand and could make something more accessible in your life, what would it be?
I want people to know self-advocacy is for everyone, including those with disabilities, who stand up for their own human rights. I want to make businesses more accessible for those with challenges and encourage people to be less judgmental around disabilities and life challenges. We can do anything we put our mind to with the right supports in place.
I want to encourage people to show their talents by submitting positive articles to the newsletter that discuss how they overcame adversities or send poems if that is their talent. I can also interview people over e-mail about how they overcame barriers and had success in their life. Please e-mail the Kamloops Self Advocate Newsletter at [email protected]
 
Read more about Krystian
He's Got News For You: Krystian Shaw (bcdisability.com 2022)