Autism Q and A: Housing Supports for Autistic Adults
Access to housing is a basic human right; however, it isn't as accessible as many people may be led to believe. This blog aims to help differentiate between housing models and to help you advocate for more housing in your community.
This blog is written by a caregiver for other caregivers of autistic adults and autistic adults.
7 min read
Most families with autistic or neurodivergent children believe their loved ones will receive housing support once they become adults. Yet, housing resources are limited.
A few years ago, some parents and I met to discuss housing resources in the Central Okanagan. The turnout was great, and my kitchen was packed with eager families. After meeting three or four times, we didn't get anywhere for two reasons: families wanted different things, and it was difficult to find a focal point. Despite our housing discussions ending, I continue to receive inquiries from families. I wish there were more resources available. 
What types of housing are available for the neurodiverse community?
These types of housing are available for the neurodiverse community according to the CLBC (Community Living BC) website: 
Supported Living/Outreach Cluster
There are two main types of supported living:
"Outreach Support: in this option, a support person visits your home to give you support with daily living at certain times during the week. This could be one-on-one or in a group

(Community Living BC, 2018).

 

Cluster Living: in this option, a support person provides support to you and a group of other people whom CLBC supports who live close to each other (often in the same apartment building). The support person usually lives close to you too (CLBC, 2018)."
Shared Living (Home Sharing and Live-In Support)
"Home Sharing: This is the most common type of shared living and involves you living in the shared living provider's home.
Live-in support: In this type of shared living support, you receive support in your own home (CLBC, 2018)."
Staffed Residential
"People who choose this option generally need quite a bit of support with many areas of daily living.
Staff who work in the home can help you with things like cooking, budgeting, personal care, recreation, and connecting to your community. Those who work in the home get to know you well and will support you to get involved in the home and the community in a way that is comfortable for you.
You may live with one or more other people in the home. You share some areas of the home with others who live there, but you have your own room that you can decorate as you like and where you can go when you need time to be by yourself (CLBC, 2018)."
It should be noted that although these housing supports/types exist, it doesn't mean that every individual who would like housing support will receive it. Like with many other supports, there are waitlists and limited funding. Also, many individuals on the autism spectrum may not qualify for CLBC's Personal Support Initiatives (PSI) program as their adaptive functioning is too high.
Staffed Residential. Photo from posAbilities.ca
What are the different types of housing models?
Affordable housing: not necessarily for people with disabilities, but for anyone in a low-income demographic.
Diversability housing: for people that are neurodivergent, usually affordable and sometimes inclusive.

Inclusive housing: 

for people who are neurodivergent and neurotypical,

 often affordable as well but doesn't have to be. 

The neurodivergent person

 has a choice as to what their housing looks like.

 

Home share:

 like a foster family, but for an adult. 

The person

 becomes part of the family and is fully integrated into the family dynamic.

 

CLBC Transition to Agency Coordinated Home Sharing Policy

(pdf) 

"

This policy establishes that CLBC will no longer undertake direct contracted home sharing and that all existing home sharing services that CLBC directly contracts with will be transferred to the agency coordinated home sharing model," (CLBC, 2018).

 

Co-Housing:

 for a mix of different people, some 

neurodivergent

,

 some neuro-

typic

al

, 

some empty nesters, some singles, some families, all age ranges and economic/income backgrounds. They will often share a common area (say a courtyard) and sometimes will get together for get-togethers, but most importantly, neighbours help neighbours.

 

Family Governance Model: a group of families that get together to create an intentional and inclusive community for their loved ones with diverse abilities. This requires a lot of time commitment on the part of families and often a financial investment.
Are there more Housing Resources?
Housing Advocacy
Strata Disputes? Who do you go to when there is a dispute about whether fines are appropriate? 
The Civil Resolution Tribunal https://civilresolutionbc.ca/  
Where do you go if you are being discriminated against for a disability?  
The Human Rights Tribunal http://www.bchrt.bc.ca/ 
AutismBC Highlights: Advocacy Support in BC — Blog — AutismBC  
What are some examples of the different types of housing models?
What can I do to advocate for more inclusive housing in our province?
Reach out to the following organizations
Reach out to your municipality and your council.
Reach out to the provincial government and your local MLA.
Connect with other families that have similar goals for housing for their loved one(s).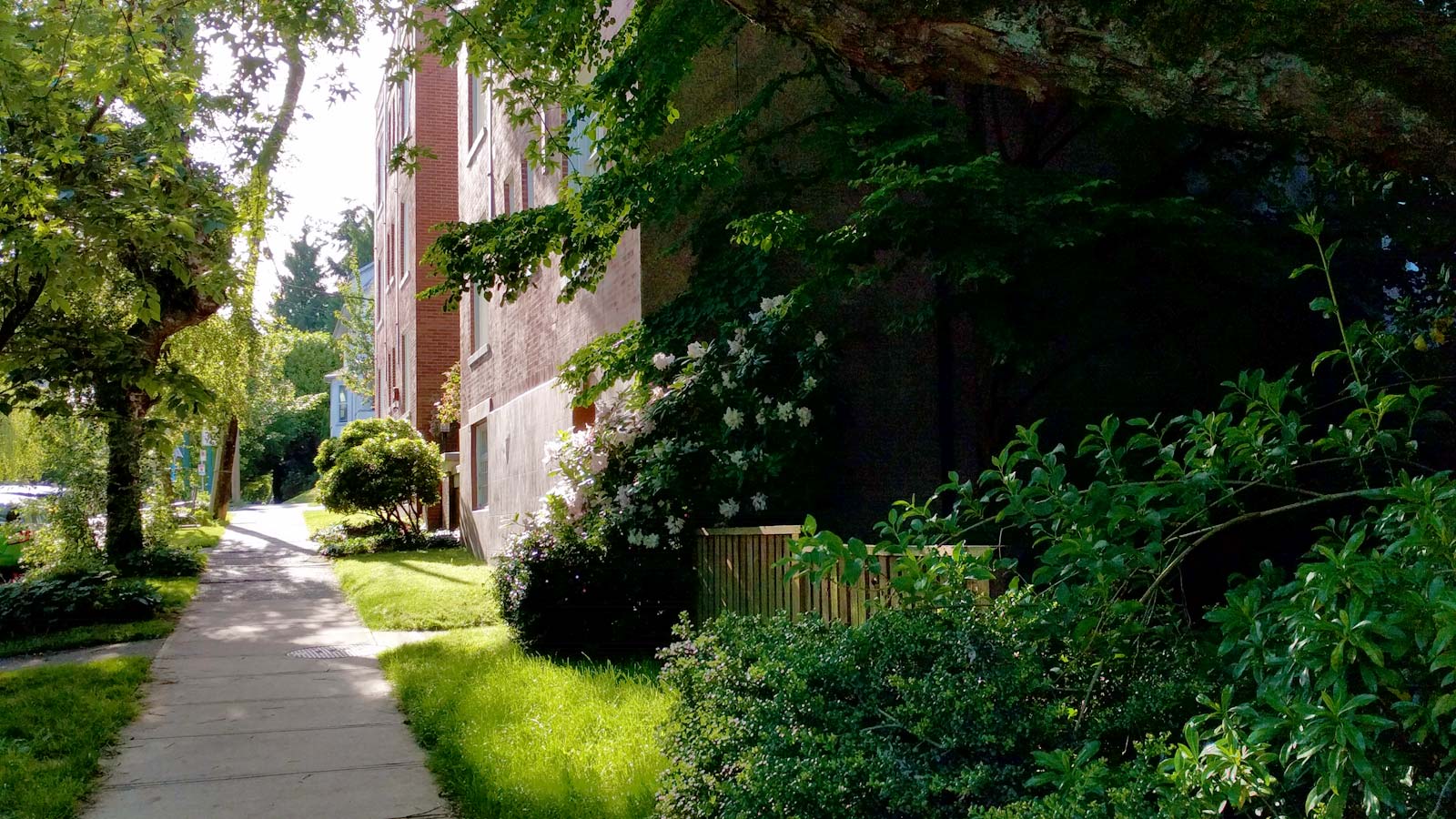 Co-op Housing. (Photo from chf.bc.ca)
What is the BC Housing's Housing Assistance?
Stable housing is a key factor in having good health. The Province of British Columbia offers supportive and subsidized housing, through the provincial government agency, BC Housing. Subsidized housing is also provided by non-profit societies and co-operative associations (BC Housing, April 2021).
Learn more about how to apply for co-op housing online here
Subsidized housing
People who live in subsidized housing need to be able to independently maintain their personal health and well-being in a self-contained living unit. They must also fulfill tenancy obligations, including paying rent, caring for their unit, and maintaining appropriate relations with neighbours. Tenants pay rent based on their income (generally 30% of income), or if on income assistance, they pay a flat rate based on family size (BC Housing, April 2021).
How are people chosen for subsidized housing?
In developments managed by BC Housing, priority is given to people with the greatest need. These include women and children fleeing abuse, people at risk of homelessness, people with health issues, including frail seniors and people with mental illnesses, physical disabilities, substance use issues and families (BC Housing, April 2021). Learn more or apply online here.
Rental Assistance
Rent help is available for low-income working families and seniors in the private rental market. There is also financial aid available for those in need of a housing adaptation to live safely and independently (BC Housing, April 2021). Learn more or apply online here.
Supportive Housing
Supportive housing is subsidized housing managed by non-profit housing societies that provide ongoing supports and services to residents to help them live as independently as possible. To be eligible you must be a low-income adult, 19 years or older, who is homeless or at risk of homelessness and who requires support services to achieve a successful tenancy. Tenants pay rent for their units, with rates based on their income source (BC Housing, April 2021). Learn more or apply online here.
Do you know of a resource that should be on our list? Please reach out here and let us know!