Autism BC Goes to Lheidli T'enneh Memorial Park with Girls Club (Prince George)
August 27 @ 12:00 pm

-

3:00 pm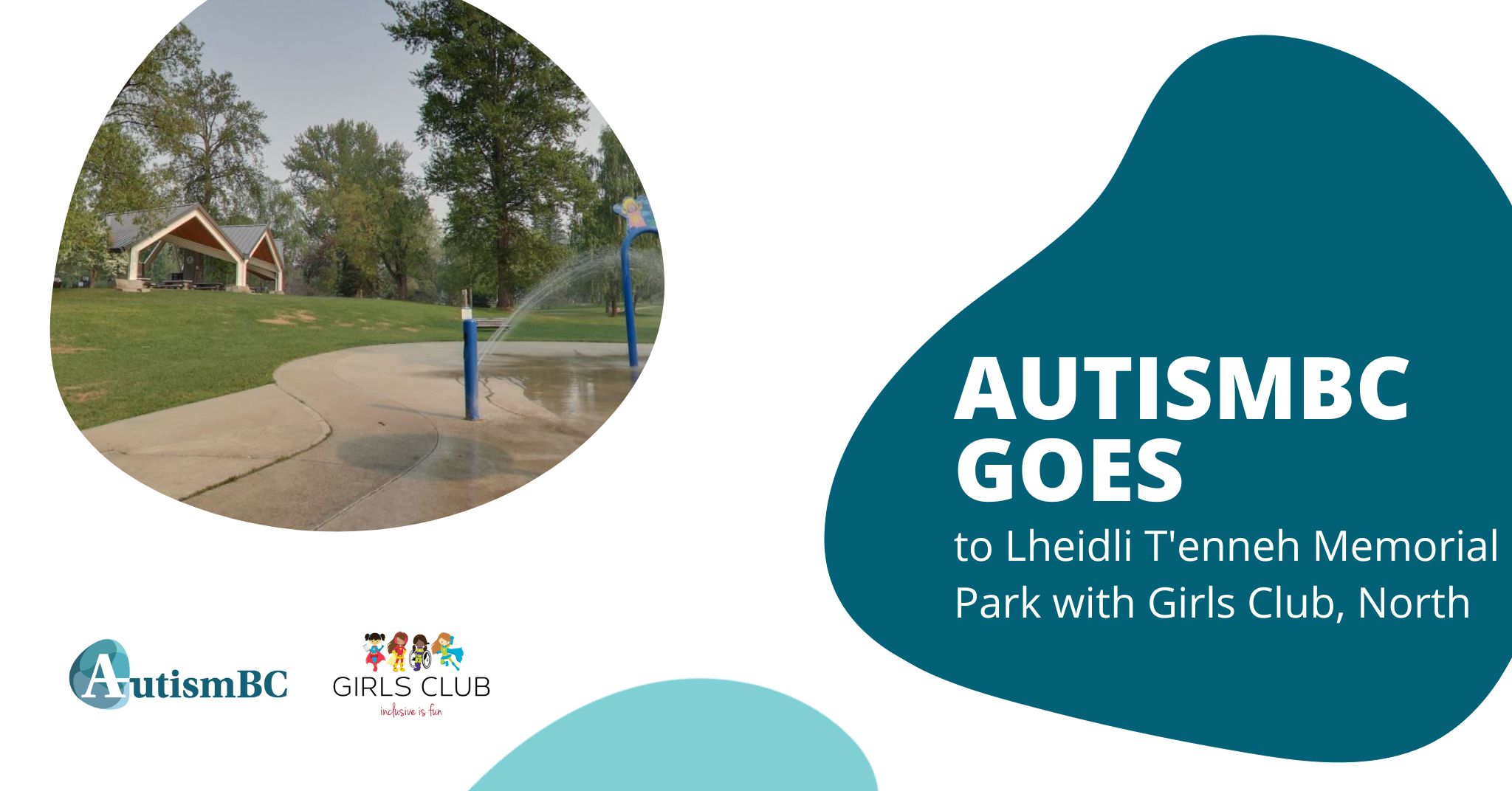 AutismBC Goes to Lheidli T'enneh Memorial Park in Prince George with the Girls Club, Northern BC Chapter
Welcome to this AutismBC Goes to Lheidli T'enneh Memorial Park in Prince George, in collaboration with the Girls Club, Northern BC. This community-based event aims to provide opportunities for our members to connect while removing any cost barriers. Join us for a couple of hours of fun, food, and friendship!
Event Details:
Date: Sunday, August 27, 2023
Time: 12:00 pm – 3:00 pm
Location: North/South pavilion in Lheidli T'enneh Memorial Park, Prince George, 17 Avenue Prince George
The pavilion will also offer a covered space if the weather does not cooperate as this event will be happening rain or shine.
Who: 
AutismBC Members
Autistic Girls in Northern BC
Anyone with connections to the autism community in Prince George
How: AutismBC is hosting this event with support from a local PG volunteer, Amanda Sopel, who has graciously offered her time to host and help families connect in the community. The Northern BC Girls Club chapter Leader Kristen is also volunteering her time to host this event and it is our first community-partnered event!
Amanda will be wearing an AutismBC t-shirt and will be the main point of contact for the event check-in.
Capacity: 120 spots are available.
Additional Info: In your registration please include if there are dietary restrictions/allergies as food will be provided. Please also let us know if you consent to your photo being taken at the event.
Consider bringing a picnic blanket to sit on, or other seating if you prefer. Feel free to bring swimwear, towels, games, and snacks, and we recommend bringing proper protective sun wear and sensory protection.
Prize Giveaway: There will also be ticket giveaways drawn at the event for 4 family passes to ride The Little Prince at the Fort George Railway! Check out below to learn more about this giveaway…
Registration:
To participate in this exciting event, please click the registration link below to complete the registration form.
We look forward to welcoming you and your family to AutismBC Goes to Lheidli T'enneh Memorial Park in Prince George, in collaboration with the Girls Club, Northern BC.
Let's make new friends, have fun, and create lasting memories together!
Registration for this event closes Friday, August 25th at noon. 
About AutismBC Goes:
At AutismBC Goes events, we aim to foster a sense of community and belonging, ensuring that cost is never a barrier to participation. By organizing engaging outings and activities, we offer opportunities for autistic individuals and their families to connect, have fun, and learn in a supportive environment. Join community volunteer Amanda Sopel & Girls Club Leader Kristen at this fun event!
About Lheidli T'enneh Memorial Park:
This is one of Prince George's premier parks that provides our community beautiful views of the Fraser River, connections through trails and pathways, stunning floral displays, beautiful grounds and much more!
Features and amenities:
Playground.
Spray park (open seven days a week until the end of September from 9 a.m. to 9 p.m.).
Kiwanis Bandshell Bowl.
The Exploration Place Museum & Science Centre.
The Little Prince mini-steam train railroad.
Sand volleyball courts.
Multi-use trails connected to the Hudson's Bay Wetland and the Heritage River Trail System.
Picnic sites, park benches, and full washrooms.
About Girls Club NorthernBC Chapter:
Girls Club is a provincial charitable organization that envisions a world where girls with neurological/developmental differences feel celebrated, included, and connected. They are dedicated to empowering girls and young women with special needs, fostering friendships, and promoting a sense of belonging.
Through various activities, workshops, and events, Girls Club aims to create a supportive community where girls can thrive, make friends, and develop their unique talents. By collaborating with AutismBC, they strive to ensure that girls on the autism spectrum have the opportunity to be included, celebrated, and connected with their peers.
The Northern BC Girls Club launched in the summer of 2023 and the Chapter Leader is Kristen. 
Ticket Giveaway Information:
Since the "Little Prince" train is no longer available on weekends, we will be doing a ticket giveaway for 4 Family Passes on the Little Prince which will be drawn at the event! We know how much of a hit it was ride to the train last year and are wanting to give this experience to families in a different way.
***Entry is only available for actual event attendees and the draw will happen during the event.***
The Fort George Railway is Canada's shortest passenger railway, and the wood-burning "Dinky" steam engine on those tracks is a unique Canadian artifact, cared for and operated by The Exploration Place.  Built-in 1912 and arriving by sternwheeler, this 24″ gauge steam engine was present at the last spike in the Grand Trunk Pacific Railway at Fort Fraser. The Little Prince runs on a 2.2-kilometer-long track in the Park near The Exploration Place. The only engine of its kind left in operation in North America, The Little Prince is a rolling memory of the days when Canada completed its first transcontinental railway.
To learn more about Girls Club: Mission, Vision, Purpose & Beliefs — inGIRLS CLUB
Our programs are designed to support, empower, and connect the autism community!  
Not yet an AutismBC Member?
Sign-up for a Membership: Our Membership — AutismBC