AutismBC Goes to Quiet Time with Santa at Westshore Town Centre (Victoria)
December 3 @ 9:00 am

-

10:00 am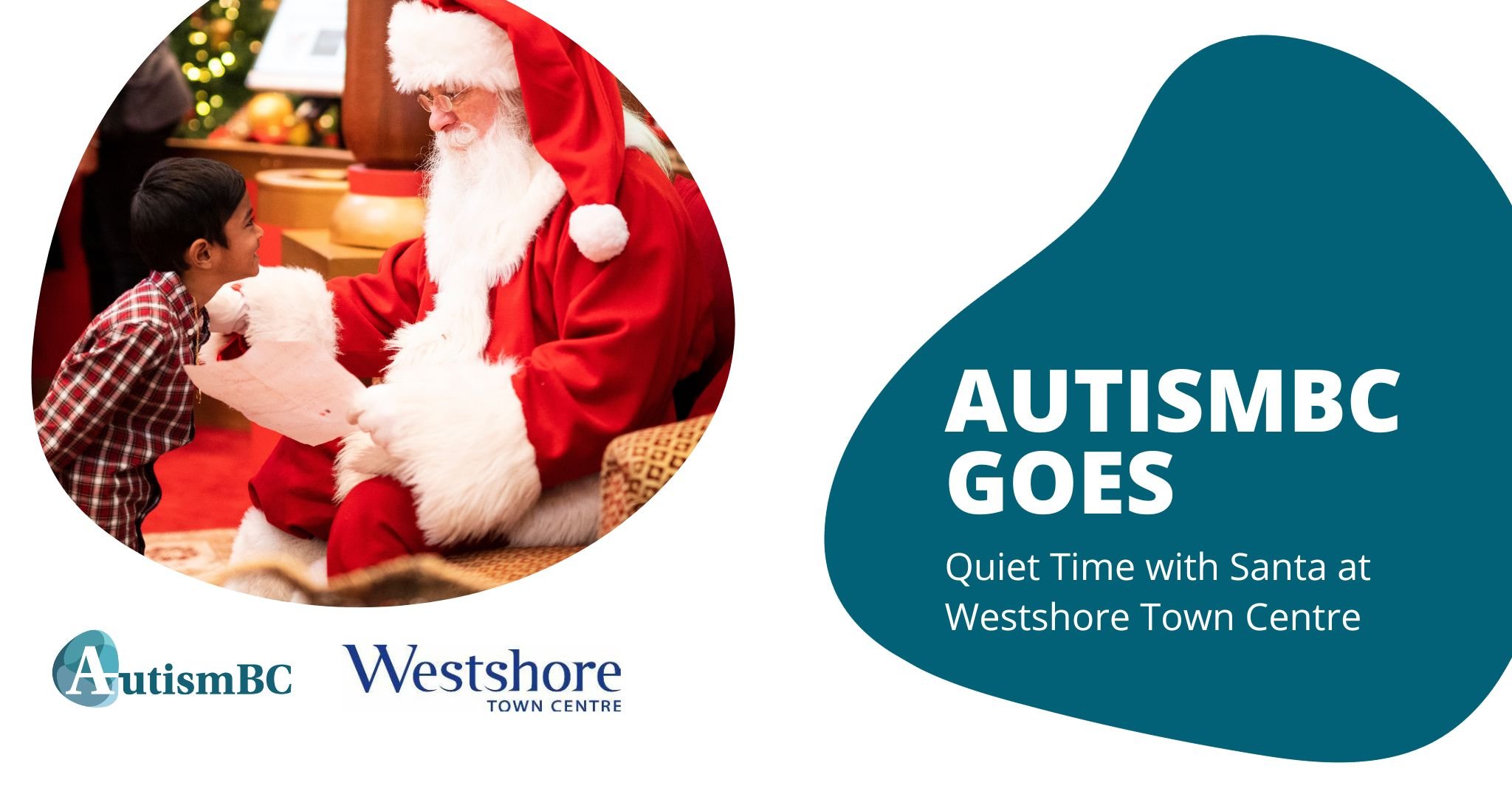 Join us for our AutismBC GOES to Quiet Time with Santa, a heartwarming and sensory-friendly visit with Santa. This exclusive event is designed for families who appreciate a calm and welcoming atmosphere for their children, especially those with sensory sensitivities.
Christmas is a busy time of the year. The malls are crowded with people taking pictures with Santa, buying gifts, and running around. The sights, sounds, and smells of malls can be overwhelming for many. Westshore Town Centre understands that this can be hard for autistic children and their families and wants our community to also join in on the holiday festivities. 
This event will provide a comfortable, sensory-friendly environment for ten families to enjoy their time with Santa in a quieter setting.
We have partnered with Westshore Town Centre this holiday season to bring our members to this event. 
Event Details:
Location: Westshore Town Centre, 2945 Jacklin Road, Langford (Santa is next to Coast Capital Savings)
Who: AutismBC Greater Victoria and South Island Members
Date and Time: Sunday, December 3rd, 9:00 am – 10:00 am
Mall Status: The mall will be closed during this hour to ensure a serene and quiet experience.
What's Included:
5-minute private visit with Santa Claus for 10 families
One complimentary photo to capture the magical moment
Time Slots: Each winning family will receive a personalized time slot within the specified hour. Remember, registration is per family, so it's a magical experience for everyone to enjoy together!
Capture the Magic: Your visit with Santa includes one photo to cherish the joyous moment. Want more memories? Additional photos can be purchased to ensure every smile is captured!
How to Enter:
Click on the registration link below
Secure your spot for a chance to win this special visit with Santa
We look forward to creating cherished memories with your family in a relaxed and enjoyable environment.
Spread the joy of the season at Westshore Town Centre!
About AutismBC Goes:
At AutismBC Goes events, we aim to foster a sense of community and belonging, ensuring that cost is never a barrier to participation. By organizing engaging outings and activities, we offer opportunities for autistic individuals and their families to connect, have fun, and learn in a supportive environment. 
*Please Note*: We will contact the winning families to let them know what time to arrive.
If you have any questions about the event, please contact Sarah Taylor at [email protected]
Our Social Story: Prepare your child for this magical encounter with our specially crafted event Social Story.
It provides a visual guide to help children understand the sequence of events, reducing anxiety and ensuring a positive experience.
Click Here for a PDF Social Story on visiting Santa at Westshore Town Centre.
Our programs are designed to support, empower, and connect the autism community!  
Not yet an AutismBC Member?
Sign-up for a Membership: Our Membership — AutismBC