Advocacy: AutismBC Talks – Understanding the Parent and Caregiver FCC Survey Results
December 6, 2022 @ 7:00 pm

-

8:00 pm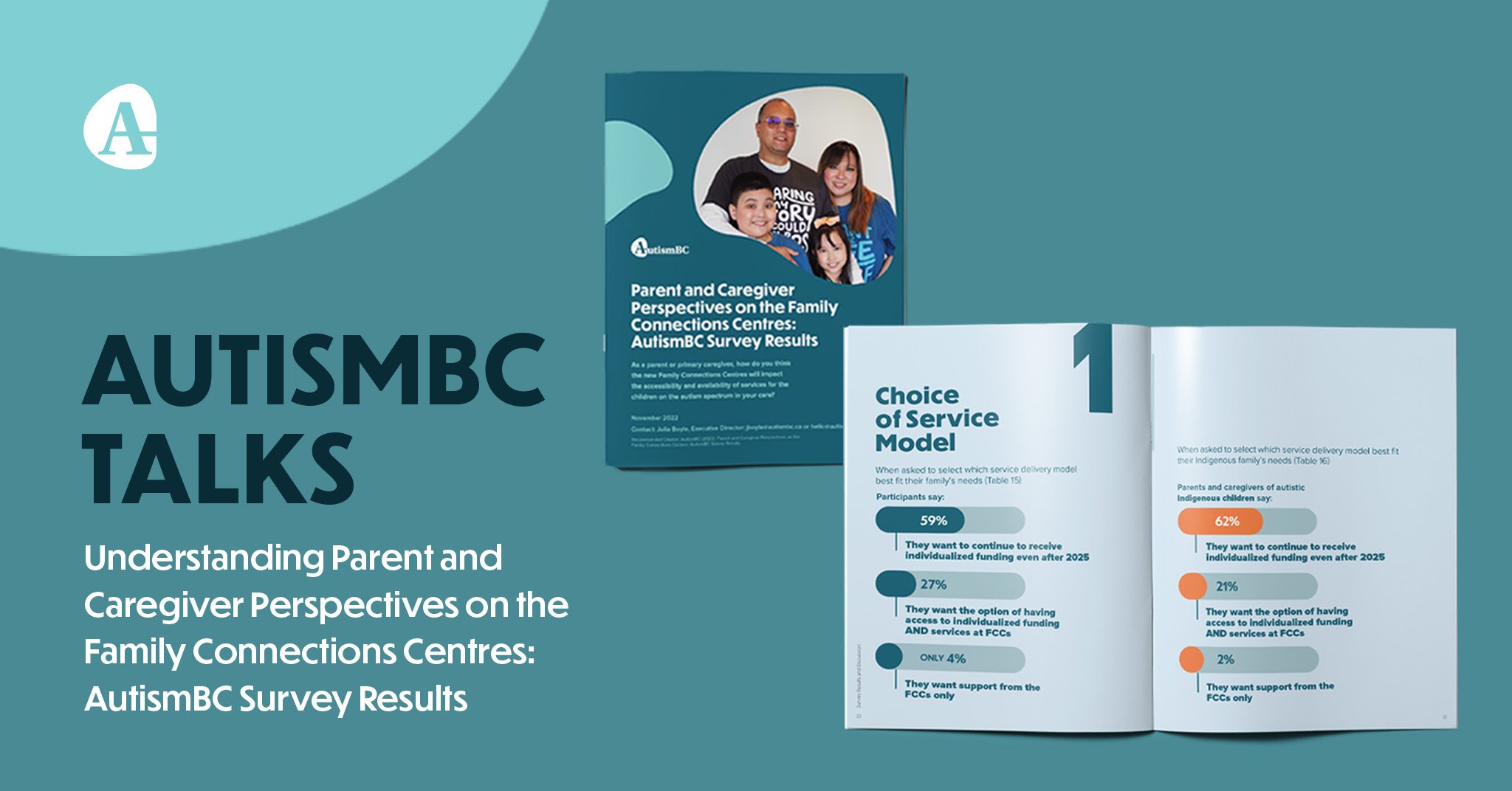 On October 27th, 2021, the Ministry of Children and Family Development (MCFD) announced changes to the Children and Youth with Support Needs (CYSN) Framework. On Friday, Nov 25th, 2022 they halted that decision and committed to maintaining individual autism funding! 
Over the past year – AutismBC has been working to understand how changes to service delivery would have impacted the autism community. In April 2022, AutismBC launched a survey to better understand parent and caregiver reactions to the proposed changes to the CYSN Framework. This survey provides the opportunity to gather and document important statistics and a diverse range of perspectives from parents in one report. 
We are pleased that autism funding will continue for our community. We still want to share the findings of our report with you. 
Summary: 
Existing programs like Individualized Autism Funding was planned to be phased out and replaced by Family Connections Centres (FCCs) by 2025. The announcement of these changes sparked strong responses – with varying degrees of support and disapproval – from community members and disability organizations across BC. AutismBC felt a responsibility to ensure the voices of our community members were heard.
In early 2022, we took steps to capture the perspectives of parents and primary caregivers of children on the autism spectrum who are under the age of 18. We developed a mixed methods questionnaire in the Spring of 2022 to address this guiding research question: As a parent or primary caregiver, how do you think the new Family Connections Centres (or hubs) will impact accessibility and availability of services for the children on the autism spectrum in your care? We analyzed the survey responses of a total of 1,563 parents and caregivers. Though participants expressed positive feelings about addressing the inequity of the current system, only 4% chose the FCCs as the service delivery model that best meets their needs. Furthermore, 65% of participants in our survey did not feel that they had an opportunity to have meaningful consultation about the FCCs.
The majority of our members want to know how they can use and understand the findings of the report. We know people have different learning strategies and reading a long text heavy report is not best for all comprehension, some learners prefer visuals and listing to a session 🙂 
Join us as our Executive Director Julia Boyle – shares the key findings of the report and our collective recommendations based on the findings. 
Advanced Registration is required – this session will be recorded and kept on our website as well as on our YouTube for you to return to listen to. 
Please note – depending on the number of people who register we will decide if we can host a Zoom meeting or a YouTube Live Presentation.  Access Link and instruction will be sent you closer to the date. 
What to Expect: 
30-40 min summary of the Key Finding and Recommendation of the FCC Report. 
20 min question period – questions can be entered into the chat or description of the video and we will respond to as many as we can after the presentation.